MOTO GUZZI RACING UK
WE ARE BACK RACING IN 2021, BUT ARE IN URGENT NEED OF SOME SPONSORSHIP.
We have individual race meeting sponsorship from £350.
Pick your local track from the below and be our team guests, experience being headline race sponsors for the weekend !
Cadwell Park June '20 - finished 5th in the CRMC Superbike race
Darley Moor Aug. '20 - finished 3rd in the CRMC Superbike race
Our race bike is a 'replica' of this bike built by the Dr John and the Guzzi factory in Dec. 1986.
Donington Park August 2019 - Superbike race 1, about 6 mins. in you see VFR's and GSXR's get bullied out of the way and some guy on what appears to be a tractor clearing off as they try to stay with him...
GUZZI WINS !!
CRMC SUPERBIKE RACE OF THE YEAR WINNERS 2019

Chris Firmin won Sunday 29th Sept. CRMC Superbike 1300cc class Race of the Year in the wet at Snetterton on our Guzzi. Before anyone starts with any "it was only 'cause it rained" nonsense, Toffa was 3rd on the track, 3rd in class and posted the third best lap time in Saturday's race in perfect warm and dry conditions...The Gods of the sporting underdog smiled on us, the ghost of Carlo Guzzi smiled, Chris's season long grimace became a beaming smile (above), holy shit even the OCD team spanner-men (again above) almost smiled !!
Angelsey, Wales, CRMC Superbike 7th July - this was the best Guzzi racing crew in the country that day...
Pembrey CRMC Superbike 5th May - Toffa Firmin piloting the V-Bomber to be up with the Molnar 1100DS Ducati and stunning 1.05 lap times. 6th place in front of EVERY four cylinder 750.
Castle Combe CRMC Superbike 6th April - voted best looking bike in the paddock
Muzzi Moto are delighted to announce they are entering a Moto Guzzi in the CRMC UK classic superbike race series across the 2019 season and Chris Firmin (most recently Landsowne Cup British champion in 2016 and Goodwood partner of James Hayden) has signed-up to race all season. Anyone who has already seen Chris booming around on our Guzzi knows that it is a spectacle not to be missed and the sound is like nothing you have heard outside of a WW1 biplane !
We have an innovative approach to race sponsorship, with packages that start at just £100 !
We generate a high degree of media interest and offering exclusive Muzzi Moto team clothing. Despite being massive under-dogs, we are particularly keen to secure some support for this effort around things like:
Rider personal sponsor per round

A tyre sponsor for the year

Headline entry sponsorship for each individual round

etc etc etc
All of the above gets you VIP race day with the team in the pits, an opportunity to be part of the glory and (at the very least) a t-shirt that may even be in your size…
Please email ian@motoguzzisales.co.uk if you would like to get involved, in whatever small you can, with this once in a generation Guzzi racing undertaking.
2019 Sponsors:
Martin Sigrist

Wizard Associates Limited
The Muzzi Moto Guzzi led the F1 Classic class from the start of the 4hr Endurance race and built up a 6 lap lead, we were running 8th on track (of 48 teams) and up with the European Superbike teams. With just 12 minutes to go (i.e. 3hrs 48mins in), with all pit stops and rider changes completed, the gearbox completely failed and we had no drive at all, hence a DNF retirement whilst leading; b@stard....
Thanks to our sponsors :

Wizard Associates Limited
18th October 2015 Snetterton - Classic Endurance - Guzzi finishes 2nd !
The UK's first Guzzi endurance team effort resulted in finishing the UK's first ever Classic 4 hour endurance race on the rostrum in an incredible second place in the F1 class. Against four cylinder Japanese opposition, the Mandello magic boomed around. This legendary chapter in Guzzi racing history included two crashes, a 5 min penalty in the naughty-box, rain, cold, no grip and running a bike for the first time against teams with 10 years+ bike development.
Endurance racing is a team effort more than almost any other motorsport, so huge debit is owed to: Guzzi mechanics: Richard TT, Andy Age 4 and Robert Paget, no mechanical issues the entire weekend/race. Eight perfect pit stops with crew chief Nick Davey with pit crew Dave Peach and Andy Od. The best attitude and professional riding efforts from Glen English, Chris Firmin and Tony Jimenez, who were prepared to put their considerable reputations in our hands. 4 hours in the peeing rain with a pit board from Karen, Eloise and Sam. A whole army of contributors in Guzzi-land that got us to the event, thanks to you all. Finally, the small contribution from Carlo Guzzi in wearing lucky Batman underpants that can now add endurance racing success to their considerable list of Guzzi racing achievements…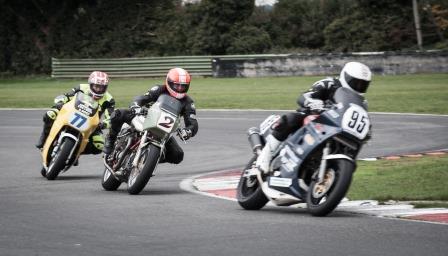 Harewood Hillclimb August 2015 - Carlo's evel twin...
Yes, it was really like this in the 90's...
This is the 2015 'latest incarnation' of our Tonti frame Hillclimber.
MUZZI MOTO - PERFORMANCE BIKES MAGAZINE, DECEMBER 2013 EDITION, PAGE 32
MUZZI MOTO - FINISH 2013 FORMULA 1 CLASSIC TT RACE
In what proved to be the toughest motorsport thing we have ever done, Roberto Paget and the Muzzi Moto team finished the inaugural Classic TT. Seventy teams entered at the beginning of the week, twenty teams failed to qualify (we qualified 49th). In a four lap race dominated by Michael Dunlop, the only "odd-ball" bike to finish was our Guzzi; finishing 29th of 29 finishers with a 90mph lap. We destroyed, 2 x engines, 1 x gearbox, 1 x drive box, and the mental health of three adults (the rest of the team were already well gone before they even got to the IoM...)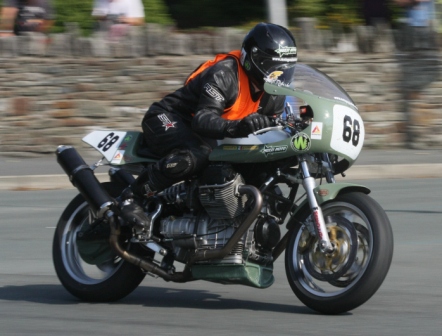 Faster pit stop than Michael Dunlop in the race (according to the timing by a 10 year old anyway...)
Classic TT 2013 - 5th August, three weeks to go...
PRESS RELEASE - Muzzi Moto Guzzi Classic TT 2013 will also be sponsored by Worlds End Couriers:
based in Fulham and Chelsea serving customers for over 25 years.
Worlds End provide same day cycle, motorcycle, small van, large van deliveries, UK overnights and International deliveries.
Book them now by calling: 020 7731 8004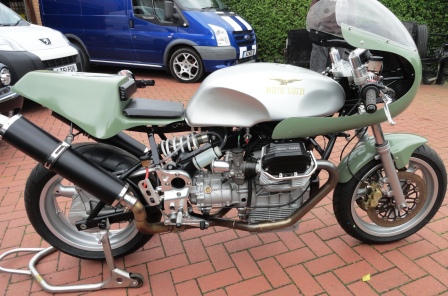 IoM Racer nearing completion - June 2013, just before the Penkridge TT
Muzzi Moto Guzzi Classic TT 2013 will be powered by:
Muzzi Moto are pleased to announce that we will again be using the world leading battery technology on our Moto Guzzi from Shorai provided exclusively to the team by Carrot Cycles.
Press release: Muzzi Moto are please to announce their entry into the 2013 Classic TT.
Formally known as Manx GP, the event at the end of August 2012 has been taken over by the core TT organisers for a massive re-launch in 2013. Ent
ering a late 1986 Dr John Witter replica based Guzzi racer in the Post Classic Formula 1 Superbike race,
Roberto Pagetelli intends to take the event, "to levels not seen since Omobono Tenni in 1935".
running a Moto Guzzi at the TT is a very rare occurrence (funny that...)

the

Formula 1

race will include Michael Dunlop and Guy Martin (whoever they are)

ITV4 have the TV rights and will screen the race
Cadwell Park 29th 30th Sept 2012 Roberto Pagetelli was just about to take the lead when...
As featured in Classic Racer magazine
BEARS race winners
With Roberto Pagetelli riding, the Muzzi Racing Guzzi have won nine of the opening races of the newly reconstituted 2012 B.E.A.R.S.
Darley Moor 11th 12th August 2012 despite a lack of roof on the toilets, Roberto took an early 3 second lead in BEARS race 1, only to fall foul of a broken gear lever, resulting a disappointing 5th place finish. An angry Pag, then went on to win all three of the weekends remaining BEARS races, despite a chronic misfire (no nothing to do with Darley's famous toilets). Good luck shined on the team, all thanks to the team owners lucky Batman pants, in race 4 when it rained, thus negating any issues from the top speed misfire. Between races Roberto even had time for a guest appearance at the Winchester supporting the presentation of an 1866 repeating rifle, it could be the plot of a George Formby film; turned out nice again....
Cadwell Park 19th 20th May 2012
Riding at lap record pace Roberto Pagetelli (aka Rob Paget) delighted his growing (female) fan club with four race wins across two days. Despite heavy pressure from the top classic racing guys and starting from the back of the grid, Roberto won by a bike length on the line in race 3, having dominated by up to 12 seconds the other three races. This despite a the team rising to new depths of collective incompetence (e.g. driving van into a kerb one the way top the circuit bursting a tyre thus arriving late for practice, Roberto completing one race with his mobile phone in his breast pocket which rang/vibrated whilst braking into the Gooseneck and the team getting back to the circuit on Sunday so late on Sunday morning that the race was about to start...). Just like MotoGP...
Cadwell Park, Sunday 20th May 2012
"right, Roberto, you little eyetie twat, this makes you go, this makes to stop"
Mallory Park 15th April 2012
One of those pivotal days up there with your first glass of Vimto. Having failed to register the Guzzi for the series (O'Reilly now installed as Team Principle and Head of Hot Beverages, once again to blame) Rob Paget was forced to start Race 1 at the back of the grid in 15th on the Guzzi. The standard of entry is good, with some Ducati Pantah's, very trick looking BMW K's, some Rob North framed Triumph triples with top classic boys on, a couple of Laverda's and Nigel Clarke on his ex-Raceco Guzzi. Around at the other side of the circuit, the team await the field coming around on the first lap, unbelievably Rob achieved a lightening start to be sixth at the end of the first lap. Going into Edwina's bend on lap 2 the Pag moved up two places to fourth; the team could not believe it and are shouting to stop the race now that's as this is good as it gets ! Lap four Rob moves up in to second, lap five he takes the lead, we can't quite believe it. A standard framed, road spec. engined Guzzi has just won the opening BEARS race; the team were literally in tears. Nine years of trudging around the fag end of UK circuits now all seem worthwhile. Race 2 was almost a repeat, again from the back of the grid the Pag took the lead on lap 4 to win the eight lapper by 4 seconds, we had reached the promised land. So with an (insane) talented club racer and a Guzzi Le Mans 4 rebuilt in Andy's Age 4's front room, we had won the opening 2012 BEARS races run for the first time in 20 years.
To quote Kipling, "if you can accept success and failure and treat those two imposters just the same, you will race a Guzzi my son…."